Clinical Pilates is prescribed and supervised by a Chartered Physiotherapist who has specialist training in Pilates.
At London City Physiotherapy we have Physiotherapists who are experts in Pilates. Their in-depth knowledge of movement patterns, biomechanics, injury recovery, sport specific and post- operative rehabilitation is supplemented by post -graduate Pilates qualifications.
This powerful combination, allows us to offer a highly specialised, remedial Pilates treatment which restores balance. Our Pilates is tailored to your needs, whether it's recovery following an injury, post-surgery rehab, preparation for a sports event. Clinical Pilates is highly effective and can improve your mobility, stability, strength, balance, posture.
We are privileged to have a spacious Pilates studio with state of the art equipment, including top of the range reformer machines. Specialist software allows you to practice Pilates on the go, with your personally prescribed exercise plan easily accessible on your phone or tablet.
London City Pilates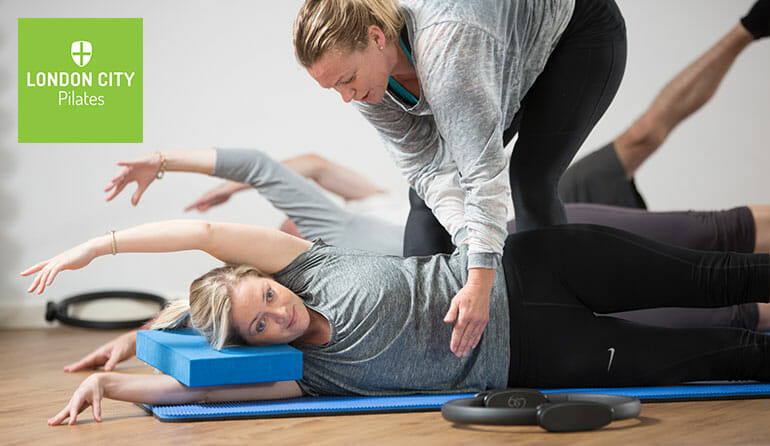 Our dual qualified Pilates instructors/personal trainers work alongside our Physiotherapists, offering an integrated approach to your wellbeing. This combination of Pilates and personal training gives our instructors a unique integrated approach.
Combining posture, flexibility, strength and muscle balance, our method works from the inside out and can dramatically transform the way your body looks, performs and feels. We offer a dynamic environment in which to train your physique in to a flexible and physically strong body that functions optimally.
One to one sessions and classes are available Monday to Friday throughout the day and evening in our central City location close to Bank, St Pauls, Mansion house, Cannon street and Blackfriars stations.
For more information please visit : londoncitypilates.com