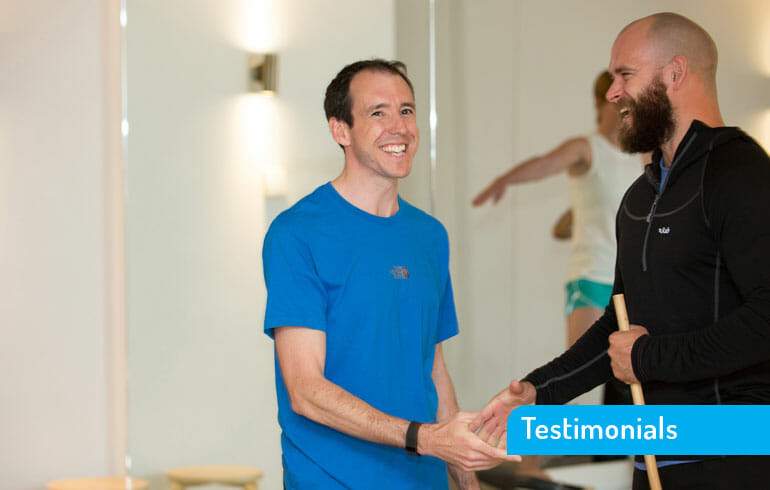 "I have been visiting London city Physiotherapy for a number of years now for various issues and always found them to be professional, courteous and have a genuine concern for the patient's well being and have always had a good recovery period."
- Ray Thomas
"My experience of London City Physio has been of first class treatments by Paula, Martine and Caroline, the therapists I used. All the staff are very friendly, including the Reception, and you soon feel like a LCP family member."
- Ewa G
"LCP has been a haven for me. Not only are the physios exceptional but I have also benefited from superb one on one Pilates with Evy Ferraro and massage with Caroline Lysek.
You are always welcomed with a smile and nothing is too much trouble. I would highly recommend this practice to anyone. They will get you better!"
- Lucy Parham
"I love the wide range of enjoyable pilates classes which coupled with the fact that there are also therapists of every type there makes it a great place to go to keep your body in good working order. On top of that there is a warm and friendly atmosphere and very welcoming reception."
- Louise Y
"London City Physiotherapy is definitely one of the best things that happened in my life."
- Yuko Uchida
"London City Physiotherapy are family to me - they fix me when I'm broken, putting me back together again when I feel it is an impossible task; they have looked after me for over a decade with dedicated and relentless care in all aspects of the most challenging physiotherapy, using this in combination with Pilates and massage - I would use no-one else as they are quite simply the best."
- Patricia
"I have visited LCP several times and have been unfailingly impressed by the quality of the care I have received. Martine and her team have successfully resolved my 'problems' on every occasion and I cannot praise them too highly. Excellent."
- Sir David Bell
"I discovered London City Physiotherapy and Pilates a year ago and since then have used them extensively for Pilates classes, Pilates personal training sessions, physio treatment and sports massages. All the staff are very friendly and welcoming, as well as being highly qualified and knowledgeable within their relevant fields. The Pilates classes are excellent as there are a maximum of six people in each session which allows the instructor to provide more relevant training and the time to help everyone individually. The LCP staff appear to have a great working relationship and there is strong feeling of teamwork - nothing is too much trouble. I highly recommend LCP and believe they are a hidden haven for all manner of injury, sports and stress related issues that working in the city generates!"
- Sarah Peeling
"I saw you last week with a "wry" neck and you kindly provided me with some painkillers and a referral to London City Physiotherapy. The receptionist fixed an appointment for me with Ben Lee at London City. I just wanted to let you know how great Ben was. Within the half hour appointment he not only managed to get rid of the excruciating pain I was in but also gave me significant movement back in my neck. I saw him again the next day and by the weekend I was pretty much back to normal. I was very impressed by his competency and really went from feeling awful to having a spring in my step! Many thanks for having seen me at such short notice and for your referral to London City Physiotherapy. I am most grateful."
- Danielle Perfect (PwC)
"LCP offers first class physiotherapy along with a friendly service from the practitioners. Over the past few years I have also enjoyed the Pilates classes and the massage therapies at LCP. I particularly like the way the Pilates studio is used for physiotherapy sessions which makes the therapy more dynamic and innovative. Without hesitation I would recommend LCP for physiotherapy, Pilates and massage therapy."
- Luisa
"Martine is fantastic; caring, knowledgeable, calm and practical. She's cost conscious, personable and really knows her stuff. I can't recommend her highly enough. Christian is also absolutely amazing as front of house."
- Kate McMahon
"Just wanted to say that really good classes. Last week with Marilyn and yesterday brilliant class with new instructor. Great to have different approach by both instructors, and different to existing instructors, to keep body challenged. Well done – looking forward to trying to get to more classes."
- Anon
"I'm enormously indebted to all at LCP, and particularly John Nugus, for keeping my body together through several marathons and ultramarathons. It's a pleasure to be treated by someone who really understands the sport, being such an excellent runner himself; the combination of experience, passion, and curiosity to keep learning about the human body make John an outstanding practitioner."
- Dr Lexie Elliot
"Martine and the team at London City Physiotherapy are first class at diagnosing and treating injuries. They are professional, friendly and knowledgeable. As someone who enjoys running, dabbles in triathlons and cycling – Martine and the team have quickly treated my injuries and kept sporting niggles at bay. I have tried a number of physios over the years and Martine and London City Physiotherapy are the best. I would highly recommend London City Physiotherapy."
- Caroline Doran
"The treatment I have received from the London City Physiotherapy Clinic has been key to my recovery from recent back surgery. Excellent treatment, professional staff and great facilities make London City a really effective healing environment."
- Andrew H