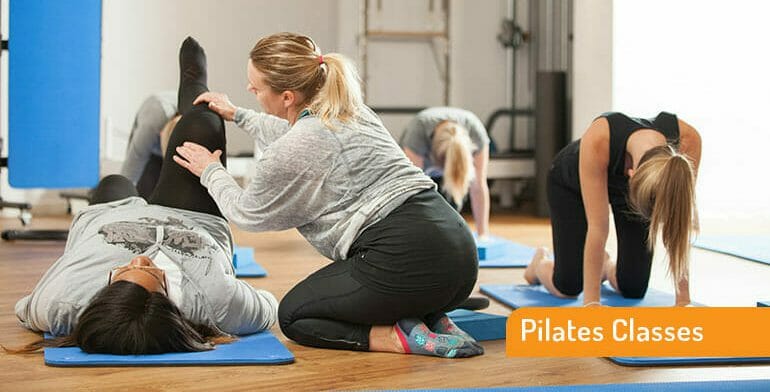 Buy one get one free (use once)
£18
Single Mat Class (£18 per class)
£18
5 Mat Classes
(£15 a class)
£75
10 Mat Classes
(£13.50 a class)
£135
20 Mat Classes
(£13 a class)
£260
Pilates Classes
Taken by our expert rehab trainers, all of our mat classes are 45 minutes with a maximum of 6 people per class, giving you a huge amount of individual support and attention. Each session delivers a bespoke experience with a Physiotherapist designed repertoire and close mentoring, to ensure your development progresses well and to help you refine your technique.
We don't charge extra for small equipment usage such as foam roller, pilates ring, theraball/band and weights, nor do we charge for kit like socks if you happen to forget some on the day. Pristine showers and changing facilities are available, each with hair dryers too.
Should I attend a Beginner or Intermediate/Advanced Class?
If you are unsure, please consider a one to one session, or start in a beginners class, just to make sure you don't over-exert yourself. The instructor will let you know which class will suit your abilities. Our starter package, which includes an individual private session and two mat classes is a very good way to begin, as well as great value.
Beginner
If you're new to Pilates, or new to London City Pilates, our £10 Pilates Taster offer is worth booking. If you've ever wondered what makes people fall in love with Pilates, or fall in love with our team, you can try your first class for just £10.
With only six participants per class, the focus in a beginners class is to understand and develop the basic principles of Pilates, such as; core activation, posture correction, stabilisation, joint mobilisation and breathing. You'll get the foundations and an insight into what Pilates can do for your posture and overall health. You can view our schedule and book classes below.
Intermediate/Advanced
This class is aimed at people with a good understanding of the basic principles of Pilates, or who wish to build on their progress gained in the beginner's classes. With a faster pace than the beginners classes, you expect more challenging exercises, more frequently. With classes limited to six participants, you're still assured a huge degree of personal attention and support from our expert instructors. View our schedule and book below.
Studio Circuit Class
If you like Pilates studio equipment or would like to build on your mat classes you will definitely enjoy our studio circuit class. It is instructor led and set up 'circuit style' utilising the reformer, Wunda chair, tower, orbit and small equipment. Ideally, you would have had previous Pilates experience or had a one to one session beforehand to make sure you get the most from it.
View Schedule and Book Online