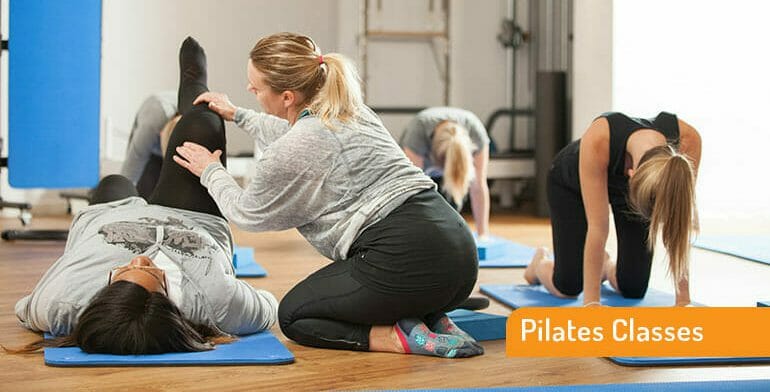 Buy one get one free (use once)
£18
Single Mat Class (£18 per class)
£18
5 Mat Classes
(£15 a class)
£75
10 Mat Classes
(£13.50 a class)
£135
20 Mat Classes
(£13 a class)
£260
Pilates Classes
Taken by our expert rehab trainers, all of our mat classes are 45 minutes with a maximum of 6 people per class. You will experience a bespoke Physiotherapist designed repertoire and enjoy close supervision, to ensure your technique is correct. You may use small equipment such as foam roller, pilates ring, theraball/band and weights.
Should I attend a Beginner or Intermediate/Advanced Class?
If you are unsure, please have a one to one session, or start in the beginners. The instructor will let you know which class will suit your abilities.
Beginner
If you're new to us, a beginner in Pilates, or would like to get back to basics, this mat work class is for you. The focus will be to understand and develop the basic principles of Pilates, such as; core activation, posture correction, stabilisation, joint mobilisation and breathing.
Click here for our schedule and to book a class
Intermediate/Advanced
This class is aimed at people with a good understanding of the basic principles of Pilates, who wish to build on their progress gained in the beginner's class. With a faster pace than the beginners, expect more challenging exercises.
Click here for our schedule and to book a class
Studio Circuit Class
If you like Pilates studio equipment or would like to build on your mat classes you will enjoy this class.  It is instructor led and set up 'circuit style' utilising the reformer, Wunda chair, tower, orbit and small equipment.  Ideally you would have had previous Pilates experience or had a one to one before to get the most from it.